Awards and Recognitions
The old way of buying a car, truck or SUV can be intimidating, frustrating and outright unfair. At E-CarOne, we do things differently. We specialize in hassle-free, honest pricing, with unmatched customer services and no surprises. As a result of our simple & direct business philosophy we have enjoyed nationwide sales, honors & recognitions, exclusive membership & bank relationships. We also have been ranked in the top 50 Pre-Owned Retailers nationwide for the last four years by Auto Dealer Monthly magazine.
2008 Independent Retailers of the Year
---
---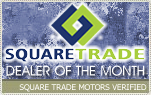 E-CarOne has been profiled as "Seller of the Month" by SquareTrade a leading provider of online shopping services addressing the "trust deficit" in ecommerce. SquareTrade delivers industry-leading merchant verification, post-purchase protections and its pioneering online dispute resolution service.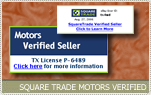 A Motors Verified Seller & Seal Member in good standing with SquareTrade since 2003, E-CarOne is a member of the largest community of trusted online sellers - with 3 million listings every day proudly displaying the Seal.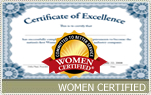 Our GSM, Marc Rhima has teamed up with Women Certified to create a women friendly online car buying experience. By completing the WomanCertified certification requirements he has made a commitment to offer a higher level of customer services to women at E-CarOne. View Press Release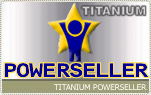 We are proud to be a part of the success of eBay! Powerseller means that we meet the criteria for being a consistent volume seller, 98% positive feedback, policy compliance. With this mark, you can be confident that you are transacting with a seller who has proven that they're committed to customer satisfaction.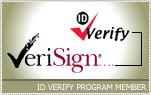 E-CarOne is an I.D. Verify established member since 2001, a mark to help both buyers and sellers trust each other. In the ID Verify process, a third-party, VeriSign works to confirm members' identity by cross-checking their contact information using consumer and business databases.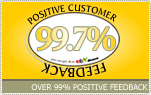 The 99.7% feedback score represents the number of buyers & seller that are satisfied doing business with E-CarOne. It is usually the difference between the number of members who left a positive rating and the number of members who left a negative rating.This represents positive ratings left by members as a percentage.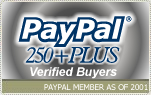 With over 5 years of successful Paypal transactions, E-CarOne is a 250 Plus Paypal member. The seller reputation number of 281 measures how many Verified PayPal members have successfully paid that seller.